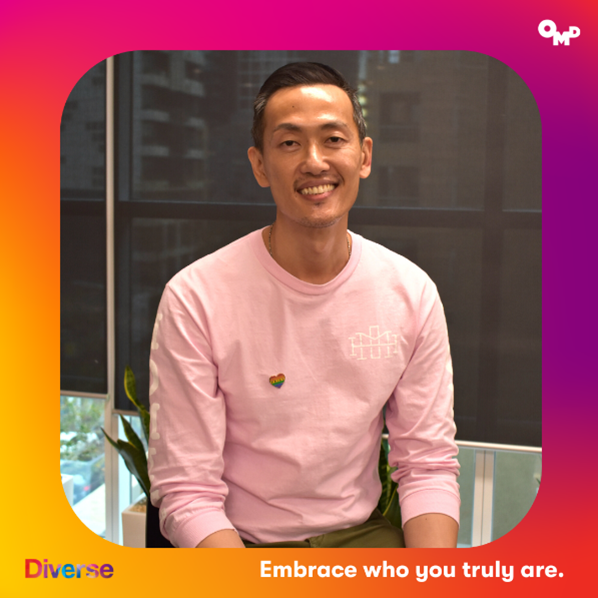 Charles Xu
Diversity in Media

"I am proud to see a more diverse than ever workforce not only being promoted, but celebrated. It is also exciting to see brands, publishers and agencies raising the bars when it comes authentic representation of diverse communities to challenge the conventional way of marketing & advertising."
Tell us a little about yourself?
I am among other things, someone who is a first-generation immigrant, Asian, gay, cis-gender male with an abled body. I've been in the industry for a long time. But two years ago, an opportunity came for me to combine my media experience and my passion for DE&I at OMD. Since, I have been helping clients to better reach audiences from diverse communities. I am also a member of the OMD DE&I Committee and help to run a number of initiatives across the company.
How do you / what do you do to stay on top of your physical and mental health?
I used to exercise five days a week and take six different vitamins daily… yes, I was obsessed. But I have changed a lot – it's no longer about how much I do, but about enjoying the process.
What are some of your daily habits for productivity and success?
Working in media can be stressful at times. So I stick to certain rules to make sure my mind switches off after work, for example, only watching relaxing TV before bed – RuPaul's Drag Race never seizes to amuse (Succession is only for the weekends)! Oh, and (a healthy dose of) caffeine always helps me focus!
How does OMD Melbourne support their staff in their own health and wellbeing journey?
There are too many initiatives to mention, such as OMD Sports Day, Yoga classes, OMD Mental Health Day, mental health leave, flexible working arrangements, free professional counselling programs and more… OMD understands that wellbeing means different things to different people and gives us the freedom and tools to choose what works the best for us. And most importantly, we have hummus Wednesdays to introduce some much-needed vegetables and vegan protein into our diet.
What aspects of working in the media industry do you enjoy the most?
As an industry, we never stopped pushing the boundaries and challenging ourselves. To a lot of us, media perks no longer mean getting invited to events or drinks, but rather using our unique privileges to make positive changes. I am genuinely excited to be surrounded by diversity of thoughts, and to see our industry keep evolving into endless possibilities.
Do you think as an industry we do well, what can we do better and what does the future for DE&I look like in our industry?
We have come a long way. But the DE&I journey doesn't have an end, so as an industry, we need to keep pushing ourselves to new heights. I am proud to see a more diverse than ever workforce not only being promoted, but celebrated. It is also exciting to see brands, publishers and agencies raising the bars when it comes authentic representation of diverse communities to challenge the conventional way of marketing & advertising. I have always been a fan of Tonic Media's Aboriginal Health TV, a platform developed by and for the Indigenous community. We need more initiatives like this.
What will you be doing to celebrate World Pride this month?
As a Melbourne-sider, I recently celebrated the Midsumma Festival, our version of the Mardi Gras. I attended numerous shows, panels and a street party. But my absolute favourite moment was organising and being a part of OMD's first ever Pride March alongside many colleagues. As a gay man, I am beyond proud to work for an organisation that embeds DE&I into its core value. As for the Sydney World Pride, although I won't be there physically, I cannot wait to participate in all the digital programs it has to offer.